Testimonials
Brighton & Hove plumber testimonials
Nat is that very rare thing – a tradesman that I have absolutely no hesitation in recommending. He has carried out a variety of work for me at both my place of work and at home and each time I have been exceedingly impressed. Not just by his approach to, and standard of his work, but also by all the small things that make so much difference between being good and being outstanding – being on time, polite, informed, working to budget, seeing the bigger picture and leaving no trace after he has finished. If only more tradesman reached this level of professionalism.
Nathaniel Sly has looked after our family's plumbing for the past five years. He responds quickly to call-outs and is reliable and punctual for appointments. He is thorough and methodical in both his fault-finding and workmanship. Anything he repairs stays repaired: anything he installs is professionally done. He communicates well; so that, particularly on larger jobs, we always know what is going on. He always leaves his job, his workspace and anywhere else he goes in the house, clean and tidy. We recommend him without reservation.
Another job completed efficiently. I know I can always rely on Nat for a competent, quick and tidy job which is reasonably priced. He has installed additional radiators, fitted a new shower, put in an outside tap and fixed a leaky tap. I wouldn't trust anyone else with my plumbing jobs.
Nat of h2flow plumbing replaced my existing wall mounted WC and concealed cistern for me in September 2011 and I am very happy with the work he did for me. I received a written quote from him shortly after he came to see the job which included a detailed outline of what the job involved. He arrived on time, he was extremely well organised, easy to deal with and above all very tidy. I will certainly use him/them again and would have no hesitation in recommending him/them to anyone else looking for a plumber/heating engineer.

Review your Plumber on Checkatrade
h2flow is a proud member of Checkatrade, the directory of reputable tradesmen. Checkatrade vets all its members by verifying their insurance, qualifications and professional memberships, then monitors their work on an ongoing basis by collecting feedback directly from their customers.
You can see h2flow's profile on Checkatrade or leave feedback here.
Your feedback is very important to h2flow and the time you take to leave a report for us on Checkatrade or Google is greatly appreciated. Please also feel free to contact us by email if you would like to provide more feedback or feel that there is anything we could have done better.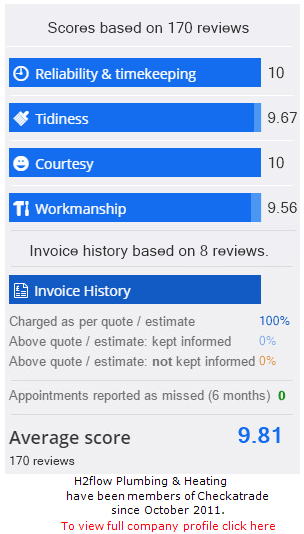 Give us a call on 01273 243351 and we'd be happy to help.
If you're looking for a bathroom fitter, we're ready to run through your requirements.
Plumbing Services
Need any other kind of plumbing work doing? Check out what plumber services we offer.
Boiler Services
Need help with your boiler? Read more about our boiler repair, installation and servicing.
Large area covered
As well as Brighton, we also cover Hove, Portslade and the surrounding areas.